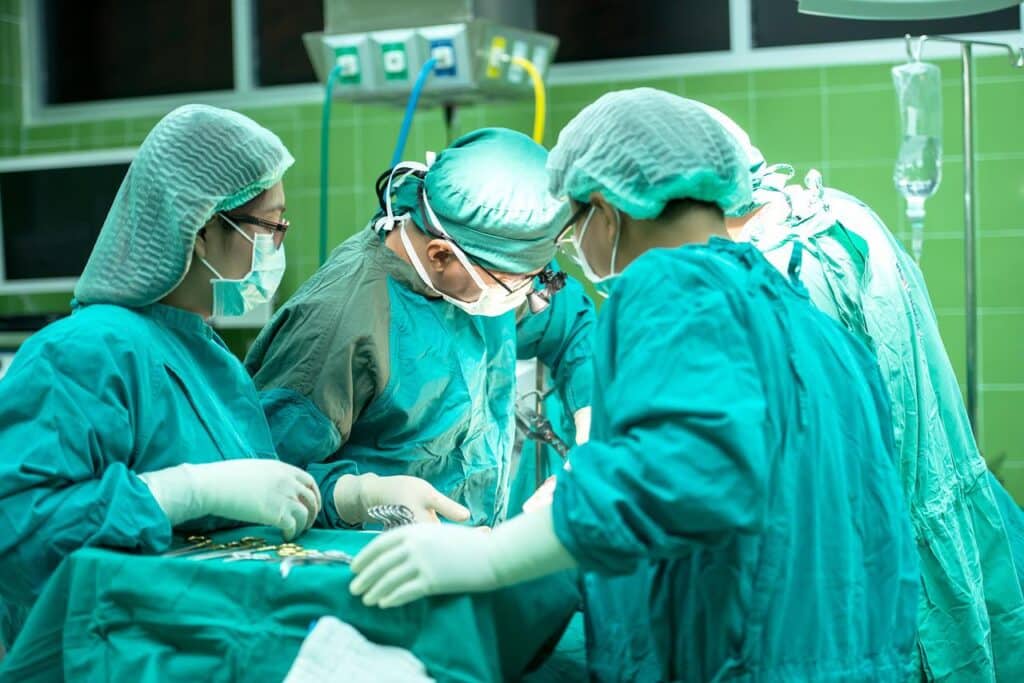 It's often said that those who have a Masters in Nursing with an MBA are amongst the most sought-after professionals in today's job market. But what does it take to achieve such a prestigious dual degree? Achieving an MSN/MBA is no easy feat, but it can be done – and we're here to show you how! This guide will provide an insightful look into how one can gain this highly coveted dual degree, giving readers all the tools they need to make their dreams of achieving it come true. So stop dreaming about having an MSN/MBA and start making your dream become reality. Read on for our comprehensive guide to attaining this rewarding qualification.
What Is An MSN MBA Dual Degree?
An MSN MBA dual degree combines two graduate-level programs, an MSN and an MBA, into one cohesive program of study. This combination offers students the opportunity to gain advanced knowledge in both nursing and business studies without having to complete two separate degrees. An MSN is a Master of Science in Nursing while an MBA is a Master's of Business Administration. The program requirements for such a degree vary depending on the institution offering the program but generally involve completing core courses from both disciplines as well as some elective courses that are specific to each discipline.
By earning an MSN MBA dual degree, students can build upon their existing nursing skills and obtain additional training in areas like healthcare management, financial analysis, and marketing. This advancement allows them to take on more complex roles within the healthcare system or pursue leadership positions at hospitals or other organizations related to healthcare administration. Achieving this type of specialized education gives graduates greater job security and provides unparalleled career opportunities with potential salaries far surpassing those available with only a single master's-level degree. Thus, it is clear that pursuing an MSN MBA dual degree has many potential benefits for individuals looking to advance their careers in healthcare or business settings.
Why Earn Your MSN MBA Dual Degree At GCU?
The imagery of success often drives individuals to pursue their goals. Earning an MSN MBA dual degree from Grand Canyon University (GCU) is an ideal way for graduate nursing professionals to gain the skills and knowledge needed to achieve professional excellence in healthcare leadership positions. With this top-notch education, nurses can take advantage of increased career opportunities as well as funding opportunities available with employers promoting degreed nurses who have achieved advanced business studies such as a Master of Business Administration (MBA).
At GCU, students are provided with flexible course scheduling options that make it easier to manage educational and lifestyle demands. Moreover, faculty members provide support throughout the entire duration of the program while also helping each student stay on track toward reaching their individual academic goals. In addition, there are numerous resources available both online and offline providing additional help when needed.
The comprehensive curriculum offered by GCU's MSN MBA dual degree program combines traditional management strategies with nursing principles giving graduates a unique set of qualifications that sets them apart from non-degreed peers. The combination of these two disciplines provides essential tools enabling nurses to become effective leaders within any healthcare organization. Graduates will be prepared to successfully integrate both business strategy and clinical care into one cohesive approach allowing them to not only manage but also lead teams effectively in any health-related organization or setting.
Be A Leader: Combine Business Strategy And Healthcare
Combining business strategy and healthcare helps to develop a unique set of skills that are beneficial in both fields. A dual degree program combining an MSN and an MBA provides students with the opportunity to become leaders, enabling them to reach their full potential.
The MSN component of the program develops nursing leadership skills while also preparing graduates for roles as nurse administrators, educators, or consultants. The MBA portion provides business-specific knowledge on topics such as finance, accounting, marketing, operations management, and economics – all vital components used to run a successful organization. By obtaining this combined degree, graduates have the additional benefit of being able to apply these two distinct skill sets together; creating real value for any employer.
Graduates from GCU's dual degree programs possess the following key abilities:
Graduate Programs:
Develop advanced clinical practice skills needed in today's ever-changing healthcare environment
Enhance patient outcomes by utilizing evidence-based practices
Learn how to lead interdisciplinary teams effectively
Business Leadership:
Understand basic concepts related to financial analysis & budgeting
Acquire effective communication & interpersonal skills necessary for management positions
Gain competency in organizational behavior principles & ethical decision-making processes
Management Skills:

Apply data analytics & information systems technology in managing organizations – Utilize project management tools & techniques – Identify & address legal implications associated with health services
A dual degree in nursing and business can equip you with the essential qualifications required to be competitive in either field. With a comprehensive understanding of healthcare delivery systems along with strong managerial capabilities, you will be well-positioned for success upon graduation. As a result of earning your MSN/MBA at GCU, you will have developed invaluable professional insight into what it takes to be an influential leader within the medical industry–from both a clinical and administrative perspective.
What Can You Do With An MSN MBA Dual Degree?
Obtaining an MSN MBA dual degree is like unlocking a treasure chest of career possibilities. Not only does it open the door to numerous executive roles, but also offers individuals two sets of credentials: one for nursing and another for business administration. With this type of certification, course administrators can expect increased leadership skills through earning both MSN-level credits and MBA courses. After obtaining the necessary qualifications from such programs, there are several paths available in terms of job prospects.
The median salary for professionals holding an MSN-MBA dual degree varies depending on the field of specialization or industry they choose to pursue. For instance, Nurse Managers who hold a dual degree can earn up to $90K per year while those specializing in healthcare finance may make upwards of $100K annually. Additionally, graduates may find themselves employed as Health Care Consultants where salaries range between $75K -$80K yearly. Furthermore, many organizations seek professional nurses with administrative backgrounds which makes them highly competitive candidates when applying for positions that require a combination of clinical experience and strong management abilities.
Regardless of what direction graduates decide to take after completing their studies, having an MSN-MBA dual degree provides opportunities for advancement within various medical or business settings. The combined knowledge obtained from these types of degrees grants holders access to valuable resources that will benefit them both professionally and financially throughout their careers. It's no wonder why so many aspiring students strive to achieve this academic accomplishment–the rewards speak volumes! As we move onto the next section about 'what is an MSN?' let us reflect on how much potential lies ahead with such qualification under our belt.
What Is An MSN?
An MSN, or Master of Science in Nursing, is a postgraduate degree that prepares nurses to become advanced practice nurse administrators. An MSN program generally takes two to three years to complete and requires the completion of at least thirty credit hours of coursework. Depending on one's career goals, an individual may choose from many different types of nursing programs such as Family Nurse Practitioner, Clinical Nurse Leader, and Adult-Gerontology Acute Care Nurse Practitioner.
Many universities now offer online MSN programs which provide students with the flexibility to pursue their studies while still working full time. These programs also provide access to cutting-edge technology and resources designed specifically for distance learning students. Additionally, some institutions offer dual degrees by allowing applicants to earn both an MSN and MBA concurrently in as little as three years.
The combination of an MSN and MBA can open up new opportunities for individuals looking to carve out a unique niche within the healthcare industry. The combined degree allows graduates to develop managerial skills alongside clinical knowledge; thus providing them with the necessary expertise needed to assume leadership roles in healthcare organizations and systems. Furthermore, it offers graduate-level training that helps prepare individuals for management positions in hospitals or other healthcare settings where they will be responsible for planning budgets, managing staff, formulating quality improvement plans, etc… With this type of training under their belt, graduates are well equipped to make meaningful contributions towards improving patient outcomes and advancing public health initiatives.
What Is An MBA?
A Master of Business Administration (MBA) is a professional degree designed to provide students with the necessary skills and knowledge for successful business management. The Carey Business School at Johns Hopkins University defines an MBA as "a rigorous program in economics, finance, operations, strategy, marketing, and other business-related disciplines." An MBA typically takes two years to complete, though some programs offer accelerated options that can be completed in one year or less. By taking courses such as accounting, microeconomics, and healthcare administration, MBAs are able to gain a comprehensive understanding of contemporary healthcare settings and how they relate to the larger business environment.
An MBA provides students with critical thinking and problem-solving skills that are essential for success in any organization; it also teaches them how to work collaboratively with other professionals within the healthcare system. Through their coursework and internships, MBA graduates learn how to develop effective strategies for managing complex projects across multiple departments or organizations. Additionally, those who pursue an MBA will have access to networks of healthcare leaders who can help guide their career path toward leadership opportunities in both the public and private sectors. Thus, while earning an MSN helps prepare individuals for direct patient care roles in clinical settings, obtaining an MBA prepares them for higher-level administrative positions within healthcare systems where there is more organizational control over resources.
What's The Difference Between An MSN And An MBA?
A master of science in nursing (MSN) and a Master of Business Administration (MBA) are two very different degrees. An MSN is typically for nurses who wish to specialize or advance their careers in the field, while an MBA focuses on business-related topics. The main differences between the two degrees lie in course content and program length.
An MSN degree generally consists of courses that focus on healthcare administration, leadership, clinical management, and evidence-based practice. In addition to these core classes, students may take electives depending on the school they attend. Depending on which specialty track a student chooses, the program can last between one and three years.
On the other hand, an MBA requires more general business classes such as economics, accounting, finance, marketing strategies, organizational behavior, and operations management. While this type of degree also involves some specialization options like health care management or international business programs will be available at many universities, it usually takes longer than an MSN to complete due to its broader scope of topics covered.
Combining both an MSN and MBA into a dual degree program allows aspiring nurses to gain expertise in both areas—a desirable combination for any nurse looking to further their career prospects in today's competitive landscape.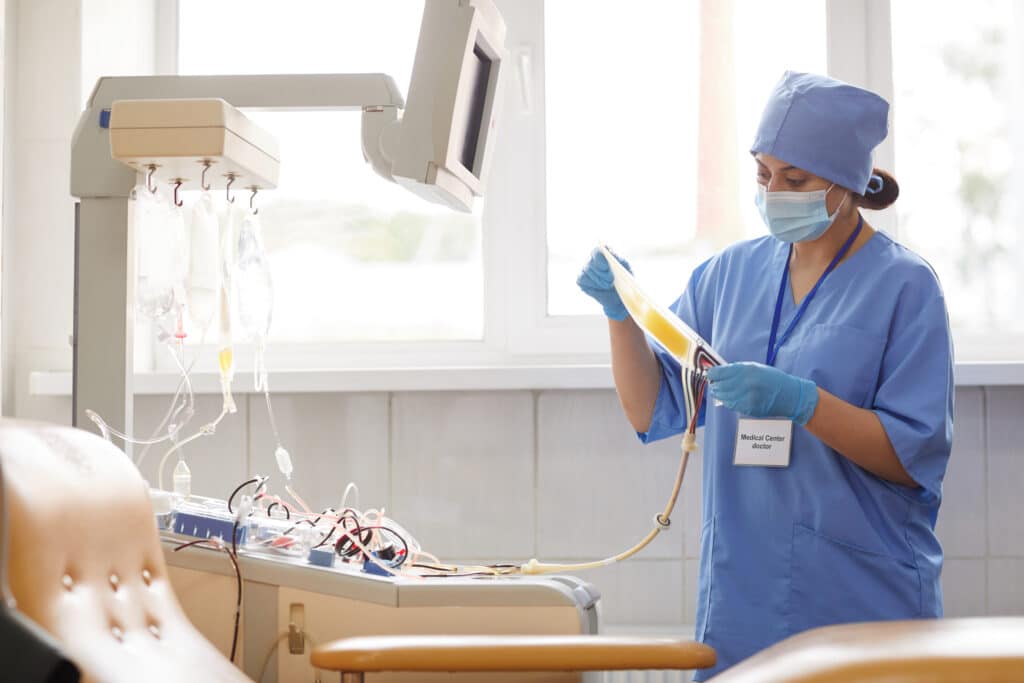 What Can Nurses Do With An MBA?
Nurses with an MBA have a wide range of educational and professional development opportunities. They can use the degree to move into leadership roles, such as nursing informatics or executive positions in healthcare management. With the help of an MBA, nurses can gain insight into the industry that will prepare them for these new roles and challenges.
The combination of an advanced nursing master's degree along with a business-focused education provides nurses with the perfect blend of skills needed to be successful in today's competitive and ever-changing healthcare environment. Nurses can use their knowledge to become more effective leaders within organizations, think critically about complex problems, and develop innovative solutions that improve patient outcomes. With this additional expertise, they are better able to manage financial resources, coordinate personnel activities, and collaborate effectively with other healthcare professionals.
An MBA is also beneficial for nurses who want to pursue higher-level positions in health care administration or policy-making roles. The degree gives them a greater appreciation of how businesses operate while providing them with strategic planning tools they need to fix organizational issues from a managerial perspective. In addition, it allows them to build on their understanding of legal requirements associated with healthcare operations as well as learn best practices for managing teams and leading projects through completion.
With all these advantages combined together, nurses who invest in an MBA can expect to experience enhanced career prospects and increased earning potential within the field of healthcare management.
What Will You Learn In A Healthcare Administration MBA Program?
A Healthcare Administration MBA program provides students with the skills and knowledge to effectively lead in a variety of health organizations. Through this degree, students will gain a comprehensive understanding of healthcare management principles as well as clinical experiences that can be applied within nursing degree programs. Upon completion of an MBA program in Healthcare Administration, individuals can pursue leadership roles ranging from nurse educators to directors of healthcare facilities.
The curriculum for these types of MBAs often includes courses on business strategy and operations, finance, accounting, human resources, marketing, and economics. In addition to core business topics, there are also specialized classes dedicated to managing healthcare systems such as legal and ethical issues in healthcare management or patient safety initiatives. Additionally, many programs offer hands-on clinical experience opportunities either through internships or fieldwork assignments. This type of real-world exposure allows students to apply their classroom learning to actual practice settings.
In order to enroll in such an advanced degree program, most universities require applicants to hold an undergraduate degree related to the medical field or one year of professional experience working in a health organization before being accepted. It is important for prospective students to research individual schools carefully when looking at potential MBA programs since each institution may have different admission criteria and course requirements.
This section has provided insight into what learners could expect from a Healthcare Administration MBA program – rigorous academic training combined with practical clinical experiences which equip them with the necessary tools for success in leading health organizations. With careful consideration given towards entry requirements and specific course offerings by particular institutions, graduates can then move forward confidently towards pursuing their career goals in the ever-changing landscape of modern healthcare administration.
Career Outlook For Nurses With An MBA
The combination of an MSN and MBA degree offers nurses a variety of career opportunities in the healthcare field. With this dual degree, nurses can become chief nursing officers, family nurse practitioners (FNP), nurse practitioners (NP), or nurse anesthetists (CRNA). In addition to these roles, those who have achieved an MSN-MBA dual degree may also pursue medical and health services manager positions as well as primary care provider jobs.
In terms of salary potential, FNPs with an MSN-MBA earn more on average than other FPNs without a dual degree. According to PayScale, FNPs with a master's in business administration make between $83K – $120K per year compared to those without the MBA making around $77K – $112K annually. Meanwhile, NPs with both degrees could expect up to $140K per year while CRNAs could earn upwards of $165K depending on experience and geographic location. As for medical and health services managers, they typically bring home salaries ranging from $71k to over six figures based upon their qualifications and job title.
Given the current demand for qualified healthcare professionals across all settings, individuals who possess advanced degrees such as an MSN-MBA are increasingly sought after by employers looking to fill leadership positions within their organizations. Nurses with a master's level education are highly valued because they demonstrate dedication towards furthering their professional knowledge base which likely results in better patient outcomes due to improved quality of care delivery methods and techniques. This transition into careers requiring higher levels of skill sets and expertise provides nurses with greater autonomy when it comes to decision-making and enables them to take charge of improving organizational standards pertaining to patient safety initiatives which are beneficial for everyone involved.
Therefore, having a dual degree like an MSN-MBA can open doors for nurses seeking greater financial rewards along with increased responsibility thus providing them with more fulfilling experiences related to their chosen profession. The outlook for nurses holding either one or both degrees appears promising given the expanding need for knowledgeable personnel at all levels within today's complex healthcare system. Moving forward, it will be interesting to see how many people choose this path regarding pursuing an MSN-MBA dual degree as that number continues growing steadily each year worldwide.
Careers For Nurses With An MBA In Healthcare Administration
The opportunities for nurses with an MBA in Healthcare Administration are vast and diverse. To illustrate, consider the case of Sharon, a highly skilled advanced practice nurse who was recently offered the chance to become a nursing master. With her extensive experience as an ER Nurse combined with her MBA degree in healthcare administration, she had no trouble transitioning into this new role.
Letters of recommendation from colleagues and supervisors helped her acquire this position; however, these letters alone were not enough to guarantee success. It was also necessary for her to demonstrate knowledge and skills related to project management, financial analysis, healthcare policy development, strategic planning, and risk assessment. Through hard work and dedication to her studies, while earning the dual degree program in MSN/MBA, Sharon is now making a difference in the field of healthcare at a higher level than ever before.
For graduate students considering pursuing their MBA in Healthcare Administration while continuing their career as an RN or APRN (Advanced Practice Registered Nurse), it is important to understand what type of salary they can expect when entering this profession. According to Salary.com's National Salary Survey data collected by over 11 million people, the average annual salary for healthcare managers falls between $ 76k-$125k per year depending on years of experience and education level achieved. This makes completing a dual degree program such as MSN/MBA even more attractive since it provides access to more job opportunities within the industry at higher pay levels than those without post-graduate credentials.
This section has examined how obtaining a dual degree in MSN/MBA can open doors for nurses interested in advancing their careers in healthcare management. Where can nurses with an MBA find employment? The next section will explore some potential organizations and roles where these individuals could pursue exciting professional paths working towards improving patient outcomes through business strategies grounded firmly in clinical expertise…
Where Can Nurses With An MBA Work?
Nurses with an MBA in healthcare administration have a range of career options available to them. After completing their nursing classes, they can gain professional experience and pursue higher salaries by earning a degree. With an MBA, nurses are well-prepared to tackle job search opportunities across many industries and increase their annual salary potential.
Nurses who earn an MBA in healthcare administration can find part-time employment or full-time jobs in hospitals, long-term care facilities, insurance companies, consulting firms, pharmaceutical companies, or government agencies. They may also work as health policy analysts or medical directors at non-profit organizations or research institutions. Some employers seek out MBAs due to the specialized knowledge that comes along with the degree program's focus on business management combined with an understanding of the healthcare industry. Many employers offer attractive benefits packages for these positions including flexible hours and paid vacation days.
The choice between pursuing a traditional MBA versus a dual degree program is something each nurse must consider based on personal goals and budget constraints. The value of having both degrees cannot be overstated: with expertise from both disciplines — business acumen coupled with clinical proficiency — nurses will possess highly sought-after skillsets which could result in greater job satisfaction and enhanced job security through increased demand from employers looking for candidates with such qualifications.
Is An MBA Degree A Good Choice For You?
For anyone considering pursuing an MBA degree, there are several factors worth considering:
Is this the right time? This will require a huge change in your lifestyle like management of your time and the large cost.
What type of MBA should I pursue?
Do I have what it takes? It requires an enormous amount of hard work and dedication.
How much will it cost? The cost of studying varies greatly depending on the institution chosen, but generally speaking, tuition fees can be quite hefty.
In order to make an informed decision when choosing whether or not to pursue an MBA degree, careful consideration needs to be given to all these points. Before committing oneself financially and emotionally, one must ensure one understands exactly what they're signing up for – both short-term and long-term consequences need to be weighed carefully against any potential rewards before taking the plunge into postgraduate study. Transitioning now into how long an MSN program?
How Long Is An Msn Program?
Gaining an MSN degree can be an attractive choice for prospective students looking to further their education. The length of the program varies depending on the university but typically involves completing nursing classes and other related courses over several semesters. Depending on individual circumstances, such as prior work experience or transfer credits from another school, some students may complete the program in less time than others.
Generally speaking, full-time students are expected to complete all course requirements within two years. Part-time students who opt for online learning can usually finish in three or four years; however, this timeline is dependent upon how many additional credits one takes each semester. In addition, those with previous diplomas in nursing may be able to transfer certain credits towards their new MSN program, reducing the amount of total required hours they need to earn before graduation.
Overall, it's important for prospective students to carefully consider what type of schedule works best for them when determining how long it will take to achieve an MSN degree. With careful planning and dedication, obtaining an MSN dual degree can make you more competitive in today's job market while providing you with invaluable skills that bring personal satisfaction and growth opportunities throughout your lifetime career journey.
Careers For Nurses With An Msn Degree: Is It A Good Choice For You?
An MSN degree is an advanced nursing credential that can provide nurses with a wide range of career opportunities in the healthcare field. It equips them with the skills, knowledge, and training for more specialized roles within the healthcare industry. With this type of degree, nurses are able to take on more responsibility and often have greater autonomy when providing patient care. Additionally, they gain access to higher salary potentials as well as other benefits associated with their new role such as better job security.
When considering whether or not pursuing an MSN degree is right for you, it's important to consider your own personal goals and objectives. The most obvious benefit of obtaining an MSN degree is the ability to specialize in a certain area of nursing. This may include taking courses related to evidence-based practice, leadership, management, acute/critical care, health promotion, informatics, or public health administration. Depending on the specific program that you choose, these classes will give you the opportunity to focus on one particular aspect of nursing while developing your skills and expertise in that realm.
Once you obtain your MSN degree there are many different types of positions available ranging from clinical nurse specialists (CNS) and nurse practitioners (NP) to midlevel administrators and faculty members at academic programs across the country. Whether you decide to pursue an administrative position or continue working directly with patients in various settings like hospitals or clinics, having an MSN opens up numerous avenues for growth within your chosen profession. Ultimately deciding which route best suits your interests and lifestyle needs should be driven by what kind of impact you want to make in terms of advancing your nursing career.
Frequently Asked Questions
What Are The Admission Requirements For An MSN MBA Dual Degree?
The admission requirements for an MSN MBA dual degree are quite stringent. To be accepted into a program, applicants must demonstrate outstanding academic credentials and possess strong interpersonal skills. Moreover, they should have the necessary technical qualifications to pursue both degrees.
When applying to a dual degree program, prospective students should consider the following items: * Academic performance: Applicants must present evidence of their achievements in prior courses as well as any standardized test scores like GMAT or GRE that may be required by individual schools. * Professional experience: Many programs prefer candidates with some relevant professional experience in order to ensure that they can leverage their business education effectively after graduation. * Letters of recommendation: Schools also require letters of recommendation from individuals who can attest to an applicant's intellectual potential and commitment to pursuing graduate studies in this field.
Applying for a dual degree is an ambitious undertaking that requires dedication, hard work, and strategic planning on the part of the student. The admission process involves careful consideration of each application component before making decisions about whether or not to accept certain candidates. Therefore, those interested in embarking on this educational journey should take time to research available options thoroughly before submitting applications.
How Long Does It Take To Complete The MSN MBA Dual Degree?
Completing an MSN MBA dual degree is a challenging yet rewarding endeavor. The duration of this program typically varies depending on the institution, student's academic background, and individualized learning plan. To gain insight into the length of time required to complete this dual degree, it is important to understand its admission requirements.
In general, most institutions require students to have a Bachelor's Degree in Nursing or an equivalent field from an accredited university with a minimum cumulative GPA of 3.0 or higher. Additionally, many programs also require applicants to submit standardized test scores such as the Graduate Record Examination (GRE). Depending upon the university, other curricular materials or letters of recommendation may be necessary for admissions consideration.
Once accepted into an MSN MBA dual degree program, students usually take two years to complete all coursework and clinical hours associated with both degrees combined. During their studies, they are expected to maintain satisfactory grades throughout the curriculum and demonstrate mastery in each specialty area prior to graduation. In some cases, courses taken during previous studies can count towards meeting credit hour requirements if approved by faculty advisors; however, additional coursework will still need to be completed in order to fulfill any outstanding credits needed for completion. Upon successful completion of the program, graduates receive both Master's Degrees simultaneously: one in nursing and another in business administration/management.
In short, those interested in pursuing an MSN MBA dual degree should anticipate spending at least two years completing all aspects of the program before being eligible for graduation and receiving their respective degrees. It is essential that candidates meet the admissions criteria set forth by their chosen universities and remain focused on achieving excellence throughout their studies so that they can attain success within this specialized educational path.
What Is The Cost Of The MSN MBA Dual Degree Program?
The MSN MBA dual degree program is an attractive option for those who wish to gain a competitive edge in the healthcare industry. This type of educational path requires time, dedication, and money. Therefore, it is important to consider how much this program costs before committing to its completion.
The cost of the MSN MBA dual degree will vary depending on factors such as:
1. The institution offering the program
2. Whether you attend school part-time or full-time
3. If you are able to take advantage of any discounts or scholarships available
4. Any additional fees that may be required by the university or college.
In addition to tuition costs, other expenses should also be taken into account when considering enrolling in an MSN MBA dual degree program. These could include books and supplies, technology fees, student activity fees, and more. Depending on where you choose to pursue your education, these costs can add up quickly and significantly increase overall financial investment in the program. Furthermore, living expenses such as housing and transportation must also be factored into budget considerations while attending school full-time.
Most universities offer financing options such as loans and payment plans which can make completing an MSN MBA dual degree more achievable from a financial standpoint. Researching all potential sources of funding beforehand can help students plan ahead financially throughout their academic journey so they are better prepared for any unexpected costs associated with obtaining their degrees at the end of their studies.
Are There Any Scholarships Available For The MSN MBA Dual Degree Program?
Students considering a dual degree in MSN and MBA may want to consider possible scholarship options that could help reduce tuition and other expenses related to their studies. There are several scholarships available for such degrees.
The Minority Nurse Scholarship Program is an option that can provide funding for tuition expenses and mentorship opportunities, up to $5,000 each year. It is tailored to those who have demonstrated need based on academic performance and family income. Also provided are career guidance services, making it an ideal choice for those pursuing a dual degree.
In addition, many universities offer scholarships specifically designed for students pursuing an MSN/MBA dual degree program. These typically come in the form of merit-based awards which take into account factors such as GPA and test scores when determining eligibility. It's important to keep in mind that these programs often require applicants to submit additional materials such as essays or letters of recommendation before they will be considered eligible for funding. Furthermore, some employers may even provide assistance with tuition costs if you agree to work for them after graduation; so it pays to explore all avenues when searching for potential sources of support.
When researching options for financing your education, it's essential to weigh each opportunity carefully and understand what criteria must be met in order to qualify. Doing so can help ensure that you get the best deal possible while still meeting your financial needs during your studies. With careful research and thoughtful consideration of each option, finding suitable scholarships should become easier over time – allowing you the freedom to focus on achieving success with your MSN/MBA dual degree program.
Is The MSN MBA Dual Degree Offered Online?
The MSN MBA Dual Degree program has been the subject of much debate, especially with regard to its availability online. Taking into account its supposed benefits as well as any challenges associated with such a venture, it's worth considering if this is indeed an option for those seeking advanced qualifications:
The advantages of studying from home include reduced travel costs and time saved commuting;
Flexibility in terms of choosing when to study;
The ability to work at one's own pace;
Potential access to additional resources through virtual campuses.
Satire can be used effectively here to add a level of sophistication to the writing, suggesting that while there are some advantages to taking the course online, there may also be drawbacks that should be taken into consideration before making a decision. For example, students may miss out on important face-to-face interactions with instructors or peers which could lead to a less personal learning experience overall. Moreover, without direct contact with their teachers or classmates, learners might struggle more than they would have done had they attended classes in person.
Having said that, however, many online courses offer excellent quality tuition and support services including discussion forums where students can exchange ideas and collaborate on projects together virtually. This provides them with an opportunity to learn from each other regardless of geographical distance – something which was not available even just a few years ago! Furthermore, technological advances mean that lectures can now be streamed live so that all participants receive the same information at the same time – adding convenience and efficiency for everyone involved.
It is clear then that although there are potential disadvantages associated with enrolling in an MSN MBA Dual Degree program remotely rather than attending classes in person, for certain individuals it could prove to be an ideal solution given their particular circumstances and preferences – providing them with both educational excellence and freedom from traditional constraints alike.
Conclusion
Achieving an MSN MBA dual degree is a challenging but rewarding experience, akin to climbing the highest peak of a mountain. Reaching this summit requires determination and hard work; however, with diligent effort comes great rewards in terms of career advancement potential and personal satisfaction. The admission requirements for this program are rigorous and typically involve taking prerequisite courses as well as completing the Graduate Record Exam (GRE). It usually takes around two years to complete all aspects of the program, including clinical practice hours. Depending on individual circumstances, there may be scholarships available that can help reduce tuition costs associated with the program. For those looking for convenience, some programs do offer online options so that students can balance their studies while managing other commitments.
Overall, obtaining an MSN MBA dual degree is an ambitious undertaking that will require dedication and perseverance. However, upon successful completion of the program, individuals stand to benefit significantly from newfound knowledge and skill sets that they have acquired throughout the process. Those who embark on this journey will no doubt find themselves equipped with a valuable set of credentials that open doors to new opportunities both professionally and personally.